BRANDS WE WORK WITH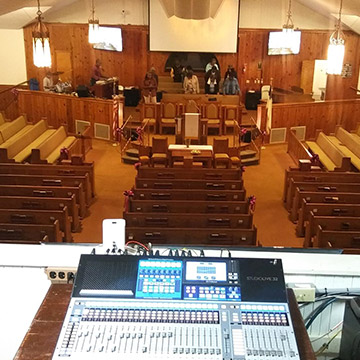 Churches and Schools in Eastern South Carolina
Churches and schools have extensive audiovisual needs. From the school play to your church's guest evangelist, it's important to have an A/V system that meets your needs for crystal clear video and high-fidelity sound. Trust TKO Production & Sales LLC to build you a system that delivers. We have the ability to outfit your institution with the very best in projection, broadcast and A/V capture—or, trust us to build you the very best live streaming setup in Eastern South Carolina.
We work with you to understand the primary needs you have for your A/V system, to ensure we're implementing the very best technologies. Count on us to use only name-brand equipment, orchestrated to deliver the features and capabilities you want from them.
A/V Capabilities
Our experience installing institutional A/V systems is vast. From simple video broadcast and sound systems, to a facility-wide paging system installation in Eastern South Carolina, we've done it. Just let us know what your needs and expectations are and we'll get to work building them into a robust audiovisual setup.
Audio distribution
A/V capture
Broadcast cameras
Chime systems
HD video projection
Live streaming
Networking
Outdoor systems
Paging systems
Sound systems
Surveillance
Video distribution
Brands We Work With
Commercial AV systems in Eastern South Carolina benefit from reliable technology. Especially if you plan to utilize your system frequently, it's best to have proven technology at the helm. Not only do we use the best of the best brands and state-of-the-art technologies, we have firsthand experience with just about everything we install. Look to us for precision installation and integration, as well as the education you need to run your system knowledgeably.
Apple
Channel Vision
Kramer Electronics
LG
Panasonic
Sharp
Sony
Ashly
Audio-Technica
Atlas Sound
Auralex Acoustics
Countryman
Crown
DBX
Denon
Furman
Galaxy Audio
JBL
QSC
Rapco/Horizon
Soundcraft
Tascam/Teac
WorxAudio
Yamaha
Presonus
Eiki
Da-Lite
Vaddio
Huddlecam
PTZOptics
Roland Pro A/V
Customized A/V Solutions
TKO Production & Sales LLC delivers custom audiovisual solutions to churches, schools and other institutions who need them. Contact us today at 843-907-0759 to discuss the needs you have for an audiovisual system and let us bring them to life in your facilities, so you can make the most of them.