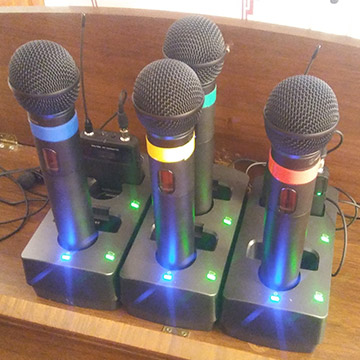 Residential and Commercial Audio Systems in South Carolina
TKO Production & Sales LLC is your authority on residential and commercial A/V systems. Our mission is to deliver crystal clear picture and high-fidelity sound in a comprehensive audiovisual experience, no matter your needs. From live streaming, to paging and chime systems, to surround sound systems in South Carolina, we promise stellar results you'll see and hear.
Owned and operated by a former professional musician, our systems are designed, constructed and attuned to the very best standards and practices. Audio or video, broadcast or two-way, indoors or out, we'll deliver the gold standard—better than any out-of-the-box audiovisual system.
A/V Capabilities
Our audiovisual capabilities are extensive, always customized to meet the needs of our customers. Talk with us about your expectations and needs and we'll build a system around them—one that's easy-to-use and highly effective. From A/V capture to live streaming, audio broadcast to home projectors in South Carolina our capabilities are limitless.
Audio distribution
AV capture
Broadcast cameras
Chime systems
HD video projection
Home theater
Live streaming
Networking
Outdoor systems
Paging systems
Sound systems
Video distribution
Brands We Work With
The key to a well-functioning A/V system is reputable equipment. Brand-name components ensure your system functions as-intended, with results that meet your expectations. We don't just use the best brands to build home audio systems in South Carolina —we can also teach you how to use them. Let us help you get the most out of your system, starting with exceptional brand name products.
Apple
Ashly
Atlas Sound
Audio-Technica
Auralex Acoustics
Channel Vision
Countryman
Crown
Da-Lite
DBX
Denon
Eiki
Furman
Galaxy Audio
Huddlecam
JBL
Kramer Electronics
LG
Panasonic
Presonus
PTZOptics
QSC
Rapco/Horizon
Roland Pro A/V
Sharp
Sony
Soundcraft
Tascam/Teac
Vaddio
WorxAudio
Yamaha
Complex A/V Capabilities
Whether you need a new home theater system or are building a chime and paging system in your commercial facilities, contact TKO Production & Sales LLC. We're the authority on audiovisual systems of any type, no matter the complexities or facilities. Contact us today at 843-907-0759 to schedule a consultation.